The new generation of smart digital signage is more interactive and knows how to observe words and colors. Traditional digital signage solutions were initially popular because they could centrally change the content on multiple displays within any specified time period, allowing remote or central control, and saving time, resources, and costs. In recent years, innovative technologies have greatly expanded the application range of traditional digital signage systems, and have provided new competitive advantages for points of sale, museums, hotels or restaurants. Today, the development focus of digital signage has rapidly shifted to interactive content, which has become the hottest topic in the market, and several significant trends have gradually formed to help the industry meet the next round of new development opportunities for digital signage.
01.Many problems that face recognition can solve
A long-term big problem faced by outdoor advertising has always been a vague area in terms of advertising effectiveness tracking. Media planners usually call it CPM, which generally refers to the cost per thousand people who come into contact with advertising, but this is a rough estimate at best. In addition to the fact that online advertising pays per click, especially when it comes to digital content, people still cannot accurately measure the effectiveness of advertising media.
The new technology will work: proximity sensors and cameras with facial recognition capabilities can accurately measure whether a person is within the effective range, and even detect whether the target audience is observing or watching the target media. Modern machine algorithms can even accurately detect key parameters such as age, gender, and emotions by analyzing facial expressions on the camera lens. In addition, the interactive touch screen can be clicked to measure specific content and accurately evaluate the effectiveness of advertising campaigns and return on investment. The combination of face recognition and touch technology can measure how many target audiences are responding to which content, and help to further create more targeted advertising and promotional activities, as well as continuous optimization work.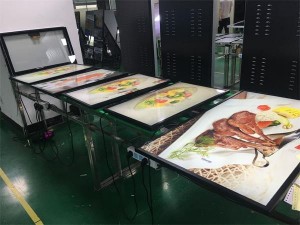 02.Touch screen keeps the shop closed
Since the advent of the Apple iPhone, multi-touch technology has been quite mature, and touch sensor technology for larger display formats has advanced by leaps and bounds in recent years. At the same time, the cost price has been reduced, so it is more widely used in digital signage and professional fields. Especially in terms of customer communication. Through gesture sensing, interactive applications can be operated intuitively. This technology is currently rapidly increasing the application range of displays in public areas; especially in retail, point-of-sale product display and customer consultation interactive self-service solutions, especially Significantly. The shop is closed, and the interactive shop windows and virtual shelves can still display products and styles, so you can choose.
03.Interactive applications must be put down?
Although the availability of interactive multi-touch hardware continues to grow, compared to the situation of smartphones and tablets in the B2C field, there is still a very lack of touch screen software and software developers in the B2B field. Therefore, until now, professional touch screen software is still independently developed on demand, and often requires greater effort, time and financial resources; manufacturers and distributors are naturally faced with difficulties in the process of selling displays, especially when it comes to low-cost hardware. The comparison of cost and the cost of custom software development is simply unrealistic. For touch screens to achieve greater success in B2B in the future, standardized software development tools and distribution platforms will be inevitable to ensure that they can be more popular, and touch screen technology will be upgraded to a new level.
04.Object recognition to locate products in the store
Another major current trend of digital signage in the retail market: interactive product identification, allowing customers to freely scan any product; then, the corresponding information will be processed and displayed on the screen or the user's mobile device in multimedia form. In fact, product identification uses a variety of existing integrated technologies, including QR codes or RFID chips. The original meaning only replaces the modern form of traditional barcodes, giving modern applications. For example, in addition to direct product identification on the touch screen, the circular marking chip attached to the actual product can be used as an auxiliary tool to display the exact location of the product in the store, and at the same time display the corresponding information on the screen. The user can also touch Operation and display interaction.
05. People's audiovisual market has a bright future
The development and market focus of digital signage in the next few years will focus on achieving customer interaction and participation through new interactive technologies and innovative solutions, and enhancing the entire interactive process and experience. At the same time, with the rapid development of more advanced audio and display technologies, the Internet of Things network will interconnect everything, and cloud computing and artificial intelligence will promote growth. The audiovisual industry will be one of the pillars of future market development. One of the major development hotspots will be performance entertainment and new media experience. The substantial transformation of the market has opened up many unprecedented and exciting new platforms and business opportunities for enterprises and industry players. Trends and data show that the development prospects of the audiovisual market in the next few years are bright. It is certain that the industry is ready to meet the golden growth period of professional audiovisual and integrated experience industry full of new opportunities.
---
Post time: Sep-02-2021