The SoC digital signage sister program is one of many innovations that change the design and integration of a new generation of LED and LCD displays in communications. In addition to the expected higher resolution, larger screen space and interactivity, people are still talking about it. A variety of topics, from the integration of artificial intelligence, to the possibility of 5G opening up the network for digital signage applications in the near future.
Interactivity
Interactive digital signage displays have been around for a long time, but with the advent of many retail analytics platforms provided by major manufacturers, interactivity is gaining new significance. This makes people's use of digital signage more important than navigation and New interest in advertising.
Consumers' demand for a more personalized conversation experience and more affordable hardware options have promoted the adoption of interactive displays. Major brands use LCD displays and LEDs with interactive glass layers to empower people and enhance the moments in daily life. .
More and more people use large interactive displays of 55 inches and larger, and as an auxiliary sales tool, sales assistants use technology to create personalized experiences with customers.
VR\AR\AI
Will the surrounding virtual reality, augmented reality, artificial intelligence and projection technology affect future display design?
The use and effect of these technologies depend on the environment in which they are located. For example, VR is not a viable technology in the retail sector, because it is more like a "fun" experience, rather than what we can see that can lead to a call to action. No matter which technology is used, it depends on In the use case and the way to integrate it into the experience.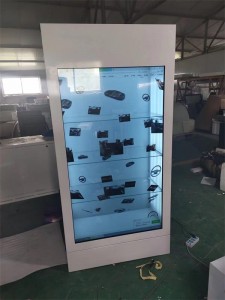 Effective integration
In addition to technical improvements, new digital signage display designs may come from cataloging on-site use, such as DOOH and large venues, to create more friendly and integrated displays, and through expansion, bring to display owners and their target audiences benefit.
The innovation of digital signage software has brought many benefits to unsigned owners. In addition to providing a scalable content delivery method, signage software is now also used to deliver over-target content to audiences by combining software with other technologies such as video analytics. Combined, the brand is increasing audience engagement and creating a more profitable business.
The benefit of the online experience is that it emphasizes the use of screens to generate new revenue streams, and the possible monetization of advertising and sponsored networks.
Network operators get advertising revenue, while viewers watch content related to the advertising content, thereby enhancing their interaction with the brand.
---
Post time: Oct-12-2021