As a practitioner of an education and training institution, I think a useful teaching all-in-one machine is very important to the classroom. At present, there are many brands of teaching all-in-ones on the market, which one is better? In our organization's procurement list, the far-reaching teaching integrated machine stands out. The experience is really good and the teaching quality has also been improved.
SYTON digital signage is currently very popular in the market, whether it is the official website of the brand or the major e-commerce platforms, you can see a lot of praise. SYTON is a professional brand of intelligent display products. Not only is the technology mature, but also all aspects of services are in place. After purchase, there is no need to worry about after-sales problems, and it is very secure.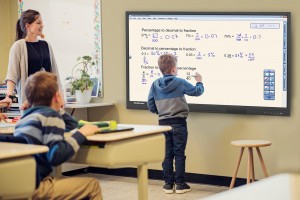 In addition, the far-reaching teaching all-in-one machine has a good appearance. It also integrates a projector, an electronic whiteboard, a computer, and a stereo. The teacher can write, draw, and play music on the whiteboard during class. This is also an important reason why most training and teaching institutions choose SYTON digital signage.
---
Post time: Jun-01-2021