Touchscreen kiosks enable interactivity through a special type of digital display that responds to pressure or the placement of certain types of objects on the screen, such as a finger or a stylus. Touch screen kiosks are able to provide end users with functionality that traditional, static or non-touch screen kiosks cannot because they allow for greater interactivity. Touch screen kiosks can display information, entertainment, important communications, ticket sales and accept cash and electronic payments. Additionally, these kiosks often support WiFi, allowing remote support and software updates, making them easier to maintain. Finally, touchscreen kiosks are available in a variety of sizes and can be customized as needed for their intended use and functionality.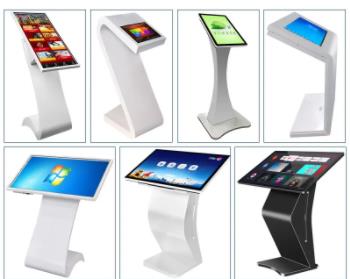 Why are touchscreen kiosks important?
Touchscreen kiosks are important to businesses and visitors because they provide organizations and their end users with a user-friendly way to interact without the need for available human resources. Touchscreen kiosks are often placed in easily accessible areas, considering their intended use, so that important functions such as wayfinding, bill payment, and ticketing are easily accessible to all.
Because kiosks are essentially specialized computers in a housing built for a specific purpose, this allows them to be incredibly customizable to meet the needs of their audience and associated businesses. With so many versatile features, touchscreen kiosks enable businesses to operate more efficiently, offering any number of services and options to their user base.
Touchscreen Kiosk Example
Digital catalogs and wayfinding kiosks
Digital directories and wayfinding solutions are one of the main uses of kiosk technology, ensuring that people always know where to go and how to get there.
Digital directories provide databases of people and locations. The purpose of this directory is to provide visitors with an easy way to locate a specific place or person with as little time and stress as possible. Directories with wayfinding go a step further, providing maps and even navigation aids for individual floors, buildings or campuses. For example, indoor and outdoor malls, airports, hospitals and corporate offices utilize wayfinding solutions to assist their visitors and make it easier for them to familiarize themselves with the area.
payment kiosk
Payment kiosks increase efficiency by automating simple ordering and purchasing tasks.
Payment kiosks are kiosks equipped with NFC and other payment options that allow users to pay bills, print event tickets or place orders. These kiosks are common in train stations, bus stations, airports, movie theaters, sporting events, fast food restaurants, and amusement parks. These kiosks are often more efficient than having traditional cashiers and free up staff to assist with other tasks, such as assisting visitors and customers with more complex issues.
kiosk
The most important function of a kiosk is to provide a database of information that everyone can easily access
Kiosks use specialized hardware and software to provide access to communication, entertainment or educational information. The value of these kiosks is similar to other kiosks in that it provides a convenient platform for easy access to information. Museums, national parks, libraries, and airports are common locations for kiosks.
---
Post time: Aug-17-2022