After the epidemic, we have witnessed a new era of knowing principles. Life is completely different from the past. We are thriving in the best way. To some extent, we are grasping some things. All of us are affected by the sudden emergence of the epidemic. The impact of how it determines our lifestyles leads us to inevitably adapt to the new normal, therefore, physical distance, stricter policies and extensive health agreements.
We started to become creative with what was left. We pressed the reset button and grew up in this adversity. We learned relatively new things to ensure that we spent our time, energy, and energy in a certain way. This is a way to alleviate the dilemma we are facing in this difficult time. We use tools we never thought we needed to navigate the new world. Experience has completely evolved new meanings, and smart digital signage played a very important role in this great reset. As businesses and offices reopen, digital signage can help change the way they operate.
Smart digital signage is an electronic display used to display information and content to viewers with different applications to meet their various needs. We go to different places and see these signs almost everywhere. It is right by our side and provides timely solutions to bring people a better experience and participation. Digital signage is flexible. It is expected in the next few years. The year will become very important.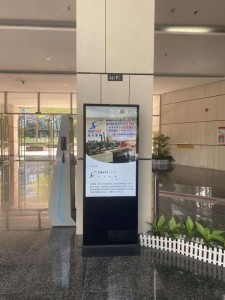 Smart digital signage applies substantive functions to different industries in different ways. There are various forms of smart digital signage, from LED walls to interactive touch all-in-ones, usually with special uses as needed.
Although we are about to recover from the epidemic and researchers are optimistic that we will return to normal sooner or later, our new normal has changed our experience. The epidemic has had a huge impact on the way we interact with others and businesses, and we now know that The importance of digital transformation that has had a huge impact on us in the past few months, big brands and large companies are slowly grasping the situation and taking it seriously. Soon, this will become a trend, and others will follow suit.
As enterprises, shopping malls, and retail begin to adapt to the new normal, smart digital signage is still an important tool, and there are still activities that we need to participate in. Smart digital signage creates relaxing and comfortable value for enterprises and end users. It shows that In such a crisis, we can rely on these auxiliary tools to perform various important functions. As a profitable tool that can be seen everywhere, intelligent digital technology is leading the introduction of the next normal state.
---
Post time: Sep-10-2021